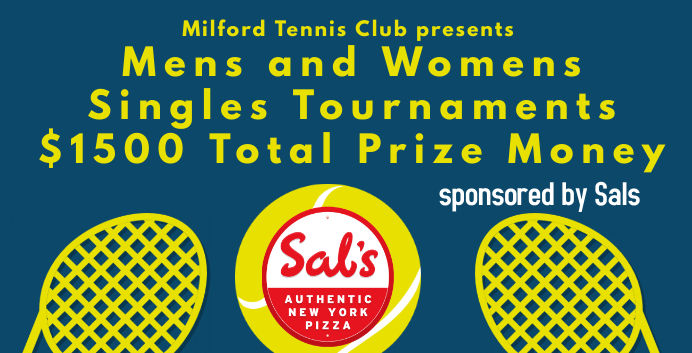 Milford Tennis Club, in association with Sals is delighted to announce 4 new Singles Knockout Tournaments:
Open Womens
Open Mens
Social Womens
Social Mens
No age or ranking restrictions for the Open Tournaments. Elite Juniors and those who play Senior Interclub are welcome to enter. $500 for winning man and winning woman
Social Tournaments are for S7 – S11. $250 for winning man and winning woman.
Entry Fee $35 ($25 for Milford members) to 12-3050-0561854-00, with the player name as the reference.
To enter, email milfordtennisnz@gmail.com with:
Full name of entrant
MatchHub player code
Open or Social entry
Mobile Phone Number
ENTRY DEADLINE THURS 18 NOVEMBER. 1ST ROUND MATCHES WILL TAKE PLACE WEEK COMM 21 NOV.
Full Rules:
The tournaments are being run in a very difficult environment when rules, laws and playing restrictions are changing. The organisers will do everything possible to ensure that there is a fair & full tournament but it is expected that all entrants understand that this is not a 'normal' tournament played under straightforward conditions. The decision of the organisers will be final when it comes to interpreting the rules, laws and playing restrictions and how the tournament will operate within them.
It is highly recommended that all participants are double vaccinated, not only for the safety of all other competitors, but also because it is possible that non-vaccinated players could be ruled out of competing as the tournament progresses – in this situation, those players would need to be removed from the draw. It is prefered that unvaccinated players do not enter. Pending Sport NZ/government advice and guidance for Community Sport, the organisers will keep players informed of any vaccination requirements ahead of the covid protection framework being introduced in Auckland.
Covid hygiene and social distancing rules must be followed at all times. This includes (at this point in time) no handshakes, no bathroom usage, 2m distancing and the use of hand sanitiser prior to the matches. Players will be updated as to the changes in rules as they relate to the tournament as they become known.
The tournament is planned to be played one round per week, starting around the 20th/22nd November. All entrants need to be able to commit to being available to play every week for the period they are in the draw. In the event that players are unable to play their match in the allotted time period, a coin toss will determine the winner so that the rest of the draw can continue, unless it is clear that one player was trying to arrange the match and the other was not. The final is planned to be in the first half of January. Please keep these dates and playing frequency requirements in mind before you enter.
Players need to arrange to play their match in the week provided, either at one of the clubs that they belong to, or through booking the Albany courts through TN (which needs to be done in advance). The results are to be sent to the Milford Tennis Club Administrator as soon as possible, and by the end of that week.
In the event there are not enough entrants for any of the 4 tournaments, that tournament will not proceed and either refunds will be provided instead of the tournament starting, or the prize money will be reduced.
Players are to provide their own tennis balls for the match – to be agreed between the players as to who will provide them. If players want to play with 2 sets of balls, so that they can serve with their own set of balls, and change balls each serve, to avoid any touching of the same tennis balls, that is OK.
The matches will be the best of 3 sets – at the current time of bathroom usage restrictions, the 3rd set will be a super tie-breaker as the default unless both players agree that it is a full 3rd set. When there are no bathroom usage restrictions, then the default will be a full 3rd set, unless both players agree on a super tie-breaker.
Semi-finals and finals are planned to be hosted at Milford Tennis Club, subject to the relevant laws allowing this to take place.
Configure points will be the main basis for the rankings and the initial draw, combined with trying to match up players from different clubs (where possible if the rankings are close) to enable players to play against people they might not usually play in the consolation draw.